Our Apps
BE THE BEST VERSION OF YOURSELF.
We develop outstanding apps for personal growth and more happiness in life.
HERO21 APPS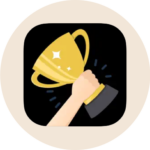 Hero21 Habit Tracker
Get motivated. Get excited. Get long-term results.

Achieve your goals like a pro with Hero21! Our habit tracking and goal-setting app is the ultimate tool to stay motivated and see long-term results. With Hero21, you can set big milestones, track your progress, and earn points for every activity you complete. Plus, easily create a vision board to visualize your goals and stay motivated. Add your own images, texts, and affirmations, and choose from many different layouts. With access to a vast photo library covering all aspects of life, you'll have all the tools you need to manifest your dreams. Get a clear overview of your weekly and monthly achievements, including automatic step counting with Apple Health integration. And with the added ability to compete against your inner procrastinator and celebrate your victories with medals, you'll stay inspired and focused. Download Hero21 today and take your productivity to the next level!

Affirmation-App
Affirmations

Affirmations